Back
Villamarchante: Beautiful Holiday Apartment with big pool in Casa-Carlos in Spanish urbanisation
Property ID: 46191
Address:
46191 Villamarchante
All-incl. rent:
39 € per day
Maximum number of people:
3
Garden private/communal:
yes
Number of parking spaces:
1
Property description:
Your holiday home faces to the south and is situated in the ground floor of the detached holiday house. The En Suite Apartment has its own house and premises entry.
The oriel of the living and sleeping area gives you a glorious and panoramic view at your illuminated pool and the mountain Horquera (Monte Horquera) with its pine and olive trees.
The terrace-like arranged garden on the 1.700 sq. m. premises disposes of palms, pine trees and various fruit trees as well as a pool adjacent lawn for sun bathing.
Furnishings:
The generous one bedroom holiday apartment with its bright interior view looks elegant and friendly. It has an own well equipped American kitchen and a dining table for 4 guests. From your double bed you can enjoy your fantastic lookout trough the oriel at sunrise. For kids there is a flexible child's bed. To the apartment belongs a bathroom with a modern shower and toilet as well as a utility room with washing machine.The outside area is equipped with deck chairs and garden furniture as well as an outdoor barbeque. A big lawn for sunbathing adjoins to the pool.
Location:
Your holiday home is situated in an all-year inhabited Spanish urbanisation characteristic for the country with exclusive one family houses. The urbanisation is standing in the costal back country close to Valencia City. The surrounding landscape is characterized by woods of pine trees, olive-, orange- and almond trees.

Explore the fantastic mountain landscape with its impressive views, canyons and caves. Countless tourist attractions invite every classes of age to full and half day excursions.
Right next to Casa Carlos you have a nature sanctuary and the River Turia which flows from Valencia into theMediterranean Sea. There are lots of possibilities for cycle and hiking tours.

Miscellaneous:
On request it is possible to get another sleeping room at the first floor. It has a huge sun terrace. The room is accessible via the staircase through the tower and has a large sun terrace and a bathroom.

Free time activities:
Swimming and sunbathing at the illuminated house own pool or at the heated indoor swimming pool in Villamarchante (ca. 2 miles away).

There are various possibilities for backpacking and bike rides, among others special well signposted routes.

In In Villamarchante you have a sports facility with tennis courts, which you can use against a charge.
Furthermore you reach in about 5 miles the golf club 'EL Bosque' with an excellent equipped 18-hole golf course and a complete distance over 20.500 feats. With superior and fast greens, a lot of lakes and over 100 sand bunkers, the golf course is the scene of different Spanish opens and offers golf courses for kids (5-15 years) as well.
You also have brilliant fishing possibilities at the River Turia (2 miles away) and at other waters like fantastic turquoise artificial lakes and of course at the Mediterranean Sea. The beaches of Valencia are also a paradise for everyone who likes water sports.
Countless tourist attractions invite every classes of age to full and half day excursions. Not forgetting the over 2000 years old capital of the federal state of Valencia with its old and new central and its amazing culture and free time offers.

Prices

The prices of the holiday appartment are considered to be per day and for maximum two adults and a child.

Time period ---------: Price in Euro
01.01.09 - 28.02.09: 39,00
01.03.09 - 23.03.09: 49,00
24.03.09 - 31.05.09: 44,00
01.06.09 - 18.06.09: 49,00
19.06.09 - 31.08.09: 54,00
01.09.09 - 30.09.09: 49,00
01.10.09 - 31.10.09: 44,00
01.11.09 - 11.11.09: 54,00
12.11.09 - 31.12.09: 39,00

Electricity, water, garden and water usage are included.
Heating costs incurred mostly just between December and February and will be invoiced separately.

The caution for the object amounts 200,- Euros.

--------------------------------------------------------------------------------

Addicional Services

Final cleaning: 50 Euro
Bedding Package (optional): 10 Euro per Pers.
Towel Package (opt.): 5 Euro per Pers.
Airport transfer: 25 Euro
DSL-Connection (W-LAN): 15 Euro per stay
Bikes: 5 Euro per day & Addult / 3 Euro per day & Kid
Navigator: 30 Euro per stay

--------------------------------------------------------------------------------

Allocation and Booking

For allocation- and booking enquiries or any questions please contact us with our contact form.

You also can get us on the phone under +49 - (0)9128 - 912665. If you want us to call you back, we would like to do this.

With this e-mail address you can reach us 24 hours: info@valencia4you.com.
--------------------------------------------------------------------------------

The Valencia4you-Team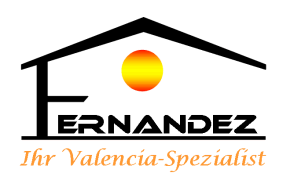 Immobilien & Beratung Karin Fernández
Phone:
+ 49 (0) 9128 9251880
Fax: + 49 (0) 9128 9251880

Back