Property 1 from 25

Next property

Back to the overview
Portsaplaya: Beautiful maisonette with three communal pools and own yacht berth if requested
Property ID: 46120
Address:
46120 Portsaplaya
Type of apartment:
Condominium
Number of parking spaces:
1
Year of construction:
1982
Property description:
This beautiful maisonette is located within an impressive and unique housing complex with pleasure craft port and artificial waterways. It is the right place for holidays as well as for an all-season inhabitation as it is just 6 km away from Valencia City.
Fixtures and fittings:
This very special property has a big corridor as entry area which gives you on its right side access to the generous living and dining room with its cosy chimney for romantic and relaxing moments. Through the corridor you will also get into the town gas working kitchen, to the shower bath and onto a big balcony which is also accessible via living room and kitchen. On the first floor you will furthermore find two bed rooms with fitted wardrobes and one with shower bath.
With circular stairs in the living room you can get into a twin room on the top floor with roof pitch and access to a big roof terrace for sunbathing and with a lot of space (ca. 25 sq. m.). The roof terrace is predestinated for sitting together with friends or for a candle-light-dinner under a starlit sky. It has a built-in barbeque, a built-in wardrobe and a warm and cold water access. The living area is equipped with a warm and cold air conditioning system.
The outdoor area of the whole complex has 3 communal pool facilities; one is conceived as public swimming bath. At the exit of the housing complex there are sport and relaxing facilities, shops, bars and restaurants as well as a big shopping centre available for you.

Location:
The maisonette is situated about 6 km northern of Valencia next to the Mediterranean sea within a really picturesquely and impressing housing complex. Its artificial waterways and its Mediterranean architecture turn this coastal location into a unique visitor attraction with sandy beach.
Miscellaneous:
The possibility is given to rent a berth for a ship or yacht and to buy or to rent a parking space in the underground car park.

Contacting and Booking:

Please send any enquiries via our contact form or write us an e-mail to info@valencia4you.com.

You can also contact us by phone in UK: 0754 1246328. If requested we gladly call you back.

The Team of Valencia4you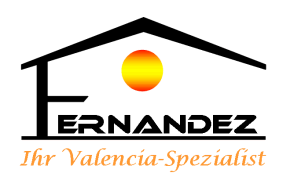 Immobilien & Beratung Karin Fernández
Phone:
+ 49 (0) 9128 9251880
Fax: + 49 (0) 9128 9251880

Back to the overview