Property 18 from 29

Next property

Previous property

Back to the overview
Cullera: 4-room appartment Anna in Cullera with beach view
Property ID: 46400
All-incl. rent:
39 € per day
Maximum number of people:
5
Pets:
according to agreement
Condition:
Fully renovated
Property description:
4-room-apartment nearby the beach in the heart of Cullera with a very good equipped kitchen. The apartment is bright and friendly furnished and has also a balcony with lateral sea and beach view.
Fixtures and fittings:
The apartment has one bedroom with double bed and two more bedrooms with single beds. It is also equipped with a TV, washing machine, fridge and freezer as well as micro wave and a gas cooker.
Location:
It is located in the centre of Cullera about 100 m away from the beach.
Miscellaneous:
Prices

The prices of the holiday appartment are considered to be per day and for maximum two adults and a child.

Time period ---------: Price in Euro
01.01.09 - 28.02.09: 39,00
01.03.09 - 23.03.09: 49,00
24.03.09 - 31.05.09: 44,00
01.06.09 - 30.06.09: 49,00
01.07.09 - 31.08.09: 54,00
01.09.09 - 30.09.09: 49,00
01.10.09 - 31.10.09: 44,00
01.11.09 - 11.11.09: 54,00
12.11.09 - 31.12.09: 39,00

The price for an additional addult is 10,- Euros per day.

Electricity and water are included.
The caution for the object amounts 200,- Euros.

--------------------------------------------------------------------------------

Addicional Services

Final cleaning: 50 Euro
Bedding Package (optional): 10 Euro per Pers.
Towel Package (opt.): 5 Euro per Pers.
Airport transfer: 30 Euro
Navigator: 30 Euro per stay

--------------------------------------------------------------------------------

Allocation and Booking

For allocation- and booking enquiries or any questions please contact us with our contact form.

You also can get us on the phone under +49 - (0)9128 - 912665. If you want us to call you back, we would like to do this.

With this e-mail address you can reach us 24 hours: info@valencia4you.com.
--------------------------------------------------------------------------------

The Valencia4you-Team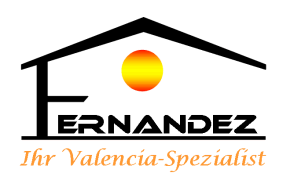 Immobilien & Beratung Karin Fernández
Phone:
+ 49 (0) 9128 9251880
Fax: + 49 (0) 9128 9251880

Back to the overview